PE Pipe Floats (PS or PU filled)
---
Our Pipe Floats are commonly used for dredging, mining and drainage of waste materials, as well as for cables. Made from HDPE, they are filled with either PU (polyurethane) or PS (polystyrene) so should any cracking or damage occur, they will remain buoyant until they are replaced. The HDPE ensures they are corrosion resistant and have a lifespan three times that of concrete or steel pipe floats. It is also highly recyclable.
We have four different sizes of pipe float with 220ltr, 600ltr, 800ltr and 1000ltr capacity:
CMS-060
Volume : 220L
Weight : 24kg
Dia : 31.5cm
CMS-034
Volume : 600L
Weight : 63kg
Dia : 45cm
CMS-035
Volume : 800L
Weight : 67kg
Dia : 60cm
CMS-038
Volume : 1000L
Weight : 86kg
Dia : 55cm
Also, for a smaller pipe diameter:
CMS-061
Volume : 800L
Weight : 55kg
Dia : 56.6cm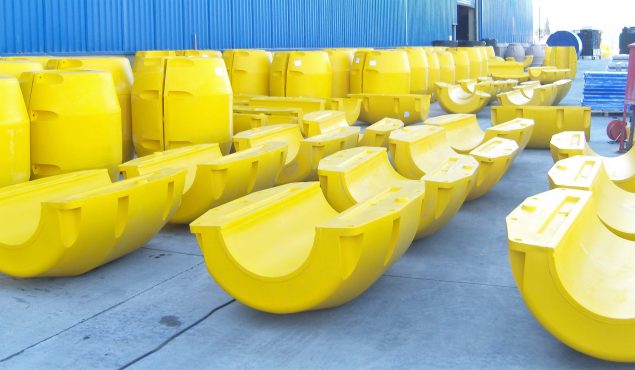 More Info
---
Pipe Floats can be ordered from us, for immediate pick up or delivery. They are produced in red or yellow and can be designed and manufactured in any shape or size according to your requirements, subject to cost and time variations.
DATA SHEETS
Download our data sheets below:
---